Home
♣
Manga Info
♣
Story
♣
Characters
♣
Fairy World
♣
About
♣
Links
ABOUT THE AUTHOR
Yuki Kaori
is a highly popular and successful mangaka in Japan; she is famous for her dramatic stories with well-developed and intriguing characters set in gothic fantasy worlds.
Her biggest success to date is
Tenshikinryouku
(TenKin) which is known as
Angel Sanctuary
outside Japan. Her other works include the
Hakushaku KAIN/Count Cain
series (which has recently been re-released as a Complete Edition (kanzenban) including colour illustrations in Japan),
Shounen Zanzou - Boy's Next Door
and
Neji
.
She is also responsible for the character designs of the current game, manga and anime TV series
Meine Liebe
.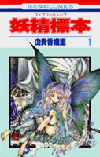 ABOUT FAIRY CUBE
Details for the 1st tankoubon (graphic novel):
Titel:
Fairy Cube 1 ($@ME@:I8K\(J [$@%U%'%"%j!<%-%e!<%V(J] 1)
Artist:
Yuki Kaori
ISBN Code:
4592183517
Price:
410 Yen (incl. tax)
Out on October 19, 2005.
Story:
Hasumi Ian, who also goes by the nickname of "Ian the Liar", possesses the ability to perceive mysterious beings; he can also see another self of himself, a boy called Tokage.
One day, Ian is witness to the "Fairy Murders" that have been shaking the world. He obtains a strange cube from the enigmatic man Kaito. But what was trapped inside the stone?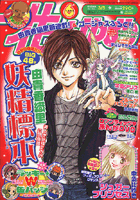 The original manga title is
$@!VME@:I8K\!W(J
which is normally pronounced "Yousei Hyouhon" and means "Fairy Speciman", but the furigana reading provided for the title is
$@!V%U%'%"%j!<%-%e!<%V!W(J
(FEARIIKYUUBU), thus the correct title is
"Fairy Cube."
Just like most of Yuki Kaori's previous titles,
Fairy Cube
is running in
Hana to Yume
, a shoujo manga magazine published by Hakusensha and out on the 5th and 20th of every month.
Its first installment was published in Hana to Yume 6/2005 (on sale February 19, 2005; see cover on the left).
For people new to manga, here's a short note on the publication system in Japan:
Manga series are published in magazines. The number of pages of one installment varies. If the required amount of pages has been published after a few months, the installments are collected and published in one volume, called
tankoubon
. Regular tankoubon have about 180 to 200 pages and there's one new tankoubon about every 4-5 months for each series running regularly in HanaYume.
Written contents, site design © 2005
Yuuya
, part of
$@M-5!E7;H%I%C%H%M%C%H(J
.
Original images & manga © Yuki Kaori, Hakusensha
No parts of this site may be reproduced on other sites.